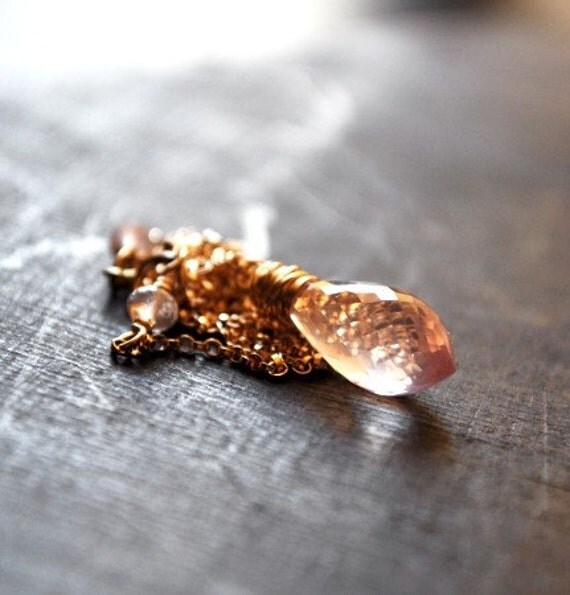 Gorgeous Microfaceted Rose Quartz teardrop briolette and small rondells in a
theori
necklace
No one likes the sinking feeling you get when open an online purchase that you have been looking forward to only be disappointed by the quality, quantity or some other aspect of the purchase that was overlooked when you hit that 'order' button. As I've made a few boo boo purchases in the past from gemstone/beads sellers, I'd thought I'd pass on my accumulated knowledge to those who are browsing and are not too sure if what they are looking at is legit.
Basically I have a few steps that I take to avoid disappointment when buying gems (which are mostly common sense, but have been overlooked by myself when distracted by the shiny pretties!)
Search and buy on legitimate websites and/or from credible online sellers
Read feedback or testimonials (google is your friend on this one) - search for negative and neutral feedback to review. I am pretty picky and will only buy gems from sellers with perfect or very near perfect feedback

Does the website look professional? Do they have a secure shopping basket? Could you ring them by phone if you wanted to? Is the address listed?

find out about them. Do they have experience with gemstones? Do they have an updated 'about me' page? Do they blog, tweet or facebook (add them and you could get discounts!)?
Carefully read the whole listing
It is easy to be captivated by a gorgeous photo of eyecatching gems or a bargain. It's times like these when you are distracted that you can be caught out by not carefully reading the listing (oh shiny!). Reading the listing carefully is important for all purchases, even if it is from a trusted seller (see above), as you don't want to be caught out about size, quantity etc.
How many beads are in the lot? A full strand?

Are these the EXACT beads, strand, etc you are receiving (if so refer to 'Closely Scrutinise Photos' below)?

What quality does the seller describe the beads as? AAA, AA, B, Exceptional, Stunning? This can be misleading as (to my knowledge) there is no recognised 'scale' of semi precious bead quality.I generally tend to buy from sellers that are brutally honest in their descriptions, and will tend to spend more money at shops where they are, as I am more likely have a better understanding of what I am actually spending my dollars on.

Is the drill hole size big enough/too large for the wire/material you are planning on using? If this isn't specified - ask!

Have a ruler handy to measure the diameter of the beads as described and compare to other beads you may have.

Do they recommend a gauge of wire to use?

What colour do they use when describing the gem? Monitor resolution can change colour shades, so it is useful to refer to this description as well when determining the colour
Closely Study Photos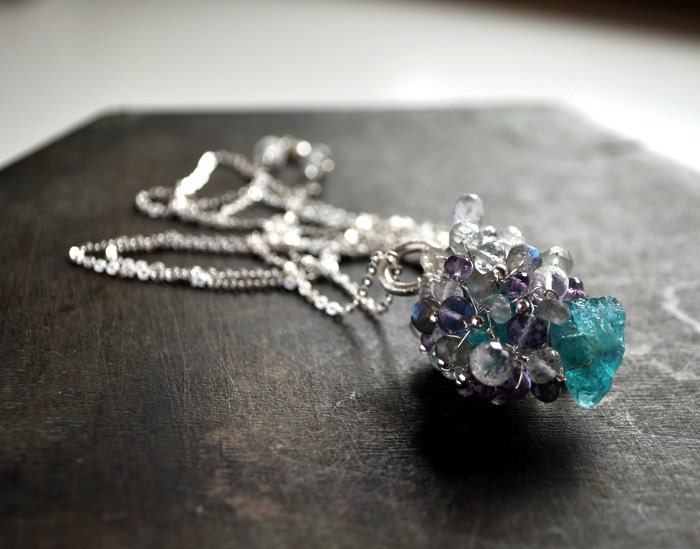 theori
necklace with a rough cut Apatite gemstone that has indistinguishable cleavage but conchoidal fracturing (shaped like chips out of glass)
Closely study the photo and ALL the stones in the photos. The ones front and center are typically the best stones on the strand and you are not guaranteed to get these unless stated.

Does the stone look like a typically described specimen? Check out for c

larity (inclusions), colour (labradoresence or Schiller),

cleavage or fracturing (for rough cut gems only! How the stone 'breaks' or cleaves). If you are unsure, do a bit of reading or ask an expert (search on the Etsy forums for lapidary etc).
Are the drill holes positioned evenly through the gem (how do the gems 'sit' on a strand - do they drop straight down or are they lopsided)? Are they the same width for the entry and exit? Do the two sides line up?

Is there any visible cracking/chipping on the drill holes?

Is the faceting even and uniform?

Are the beads the shape they should be (onion, round, heart etc) and the same size (if they are listed as so)

Has the photo/s been noticably 'photoshopped'?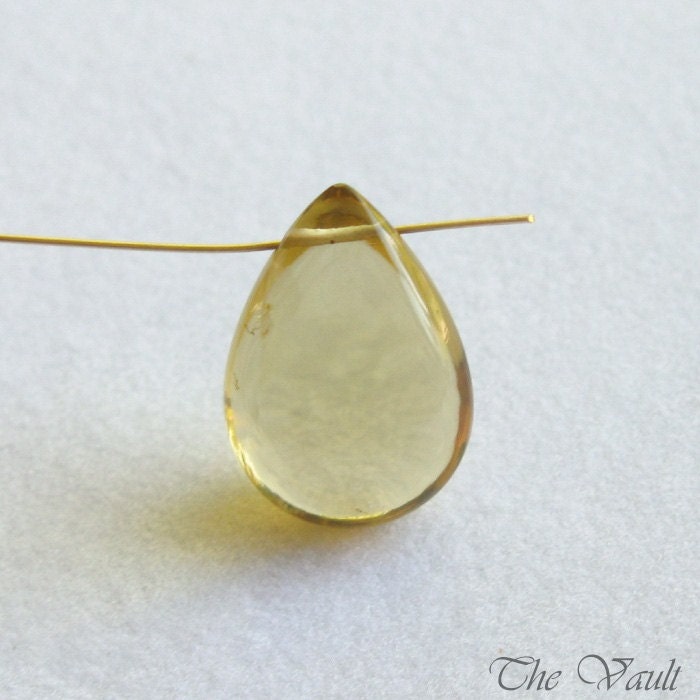 Read Shop/Site Policies
Do they have policies? I won't purchase from people who don't.

If you aren't happy with your purchase can you send it back? Who pays for postage?

How long will it take to reach me?

Can I get extra insurance/tracking for large or expensive purchases?

How does the seller deal with lost packages?
Price
If it's too good to be true, it normally is. Unless you are buying direct from the gemcutters or supplier ( and they can be determined to actually be what they say they are), you are unlikely to get a super cheap bargain at face value. Price is something I use along with other information to determine if a gem is suspicious, does the photo look strange, there is a limited description AND the gem is cheap? Hmmm...
Ask and You Shall Recieve
If a seller is committed to having you as a customer, they will respond to any queries that you have. If you are unsure about anything, or want to know more drop them a line and ask!
Do you have any other tips that I haven't included here? Let me know in the comments below!